Silicone Tubing for Peristaltic Pump Head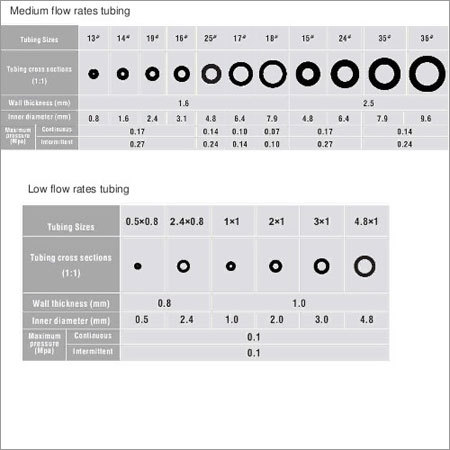 Silicone Tubing for Peristaltic Pump Head
Product Description
Silicone Tubing for Peristaltic Pump Head

Being an ISO certified organization, we have been engaged in manufacturing, exporting and supplying a quality-assured array of Silicone Tubing for Peristaltic Pump Head. The offered pump head is manufactured using supreme quality components and the latest techniques by our highly experienced professionals. This pump finds applications in pharmaceutical and biotechnology applications. Apart from this, our clients can purchase this Silicone Tubing for Peristaltic Pump Head at budgeted costs.
Features:

Noiseless operation
Resistant to corrosion at low temperatures
Longer service life
Energy efficient
Silicone Tubing for Peristaltic Pump Head

Platinum-Cured Silicon Tubing
Slightly greater clarity, smooth surface,
Low protein binding levels,
Fewer potential leach able
Ideal for pharmaceutical and biotechnology use,
Suitable temperature range 51 - 238C
Peroxide-Cured Silicone Tubing
Greater Physical Compression capability
Slightly clarity,
Smooth surface,
Economical, longer tubing life,
Suitable temperature range -51 - 238C.
Medium Flow rates Tubing:
Tubing Sizes
13 #
14#
19#
16#
25#
17#
18#
15#
24#
35#
36#
Tubing Cross Sections(1:1)






















Wall Thickness(mm)






1.6










2.5


Inner Diameter(mm)
0.8
1.6
2.4
3.1
4.8
6.4
7.9
4.8
6.4
7.9
9.6
Maximum Pressure(Mpa)
Continuous

0.17
0.14
0.1
0.07
0.17
0.14
Intermittent
0.27
0.24
0.14
0.1
0.27
0.24
Low Flow rates Tubing:
Tubing Sizes
0.5X0.8
2.4X0.8
1X1
2X1
3X1
4.8X1
Tubing Cross Sections(1:1)












Wall Thickness(mm)
0.8
1
Inner Diameter(mm)
0.5
2.4
1
2
3
4.8
Maximum Pressure(Mpa)
Continuous

0.1
Intermittent
0.1