Plant Grow Light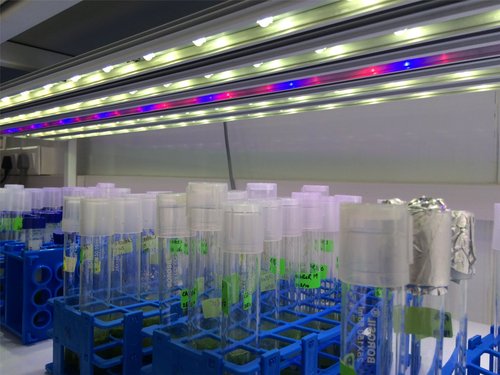 Plant Grow Light
Product Description
Plant Grow Light

We are an ISO 9001-2000 certified firm, engaged in offering Plant Grow Light to our clients. The offered light is manufactured using top-grade materials under the strict direction of our highly experienced professionals. Finds its application in green house and nursery, this light helps the plants to grow at good pace by providing suitable condition. Apart from this, offered Plant Grow Light is available in market at marginal price.
Features:
High intensity
Less power consumption
Adjustable
Highly effective

Plant Grow Light

The innovative design of Plant Grow Light helps to raise photosynthetic activity in plants by acting as a good substitute of natural sunlight. Free from NDIR and ultraviolet spectrum parts, it has peaks at 470mm and 630mm/660mm. The product is reckoned for its uniform light distribution system.
Key Features
Available with LED bulb with 6/10/12 watt power range
In built cascadable or dimmable driver
In built thermal and lighting protection mechanism
IP66 / IP67 grade enclosure protection system
Various range of its optics view angle (2 ) include : 7.5 , 15, 30, 60, 120
It does not emit ultra violet rays or infrared rays
100,000 hours of functional life and high luminous efficacy rate
Featured with 24 DC voltage functioning, this item is reckoned for 92% output level and EMI radiation free lighting system
Uniform light distribution system over a specific area
Stable operation even under low temperature
Eco-friendly and is protected against vibration or electrical shock
Its 400-700 nanometer wavelength range of photosynthetically active radiation is suitable for proper growth of plants
Good electrical thermal isolation capacity
Stable wavelength with smooth functioning
Equipped with 470nm blue wavelength and 630nm/66nm red wavelength for proper growth of plants
0 to 100% light intensity range (0 to 20000 lux)
Specifications:
Each rack comprises of five shelves that are designed with 120 watt bulb
In built cascadable or dimmable driver
Integrated electrical protection and thermal safety systems
These are equipped with IP66 / IP67 grade enclosure protection facility
Free from IR or UV radiation
100,000 hours of working life with better lighting quality
With having 92% luminous efficacy, these require 24 DC voltage for their functioning
Brightness of light and uniform light dispersing capacity over a specific area at different angular position (2 , 2) : 15, 30, 60, 120
Stable performance even under low temperature prone working environment
Safe for the environment and pare protected against vibration or shock caused by electrical hazards.
Its range of 440-470 nanometer wavelength for photosynthetic active radiation is suitable for proper growth of plants.
Thermal path is separated from electrical path
Consistency in wavelength for longer period and trouble free operation
These provide 440/470nm blue wavelength and 630nm/660nm red wavelength that are instrumental for proper growth of plants
The available wavelength includes : 440-470nm, 630-660nm, 390nm, 730nm
Light intensity ranges between 0 to 20000 lux
Contact Us
Unit Designinnova :- A-12, Naraina Industrial Area, Phase-1, New Delhi, Delhi, 110028, India
Phone :+918037266771